I had a very calm blackout experience yesterday. I didn't get stuck in a subway, I didn't have to walk home across a bridge, I didn't get stuck in an elevator or in another borough. For that I feel very fortunate. In fact, it wasn't a bad experience. After all, I enjoyed some free ice cream.
In fact, I wasn't aware of the extent of the blackout until nearly two hours after it started. When the power went out, I was at home, making a sandwich. I ate, finished reading the law review article I started and then decided to go outside and try to find some cell phone reception. Cell phone reception is tenuous at best in my apartment even when the cells are working normally and the only landline phone I have in my apartment is cordless, so it won't work without power.
The blackout brought out a sense of community spirit and neighborliness that isn't apparent when people can retreat into their air-conditioned apartments and stare into video screens. Instead, the Brooklyn Promenade was filled with people watching the skyline fade into the night sky, except for those buildings downtown with generators. The Verizon building's sign remained lit past nightfall, and it's red and white logo glowed eerily in the skyline. The Staten Island ferry was lit up brightly as it ferried back and forth from lower Manhattan. Spotlights continued to illuminate the Statute of Liberty in NY harbor. (Not suprisingly, those photos, which I took handheld with an ice cream cone in my other hand, are essentially useless. The photographers who had their tripods probably had better results.)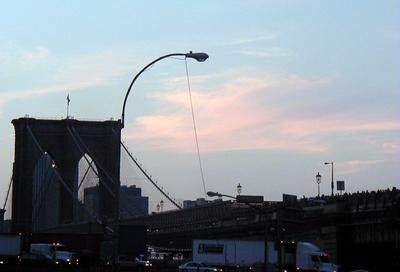 Throngs of people walk across the Brooklyn Bridge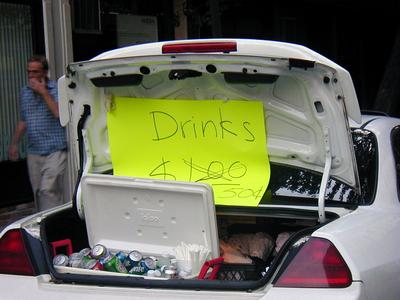 Attempted profiteers


These guys were grilling and sharing hot dogs. Thanks! I don't have a good picture, but right nearby, the wine store staff passed out cups of Chardonnay.


Free ice cream! Wooo-hoo!


Us normal geeks are no match for this über-geek, who was out on the Brooklyn Heights Promenade, as darkness fell, with his digital camera on a tripod, iBook and head-mounted flashlight.
I heard some cheers outside when the power came on just before 8 this morning. Although the cable modem didn't return until early afternoon, dial-up worked well enough in the morning to post these photos.
Gothamist: The New York City Blackout Edition
More stories and photos (in no particular order):
Grant Barrett (World New York): The Great North American Blackout 2003
Meccapixel: If you're going to loot, why McDonald's?
Jeremy Blachman: "Okay, we had a blackout. I'm a law student. The natural question: who can I sue?
Capn Design: Blackout photos
Satan's Laundromat: "You know, I've always had a peculiar desire to live through natural disasters…"
John Wehr: New York City Blackout as Photographed by John Wehr
Robert Spychala: photos
Camworld: The Great Blackout of 2003
TextAmerica: The Blackout moblog
WNYC: The Blackout of 2003 Slide Show
Aquick: Blackout 08/14/2003 photos
Too Much Sexy: Electricity, nectar of the gods
Amy Langfield: On the last car of the Q Train between DeKalb and Atlantic
Paul Frankenstein directed traffic on Ninth Ave.
AP: Iraqis Offer Tips Over U.S. Blackout
Jack Balkin: The Top Ten Theories About What Caused the East Coast Power Blackout
While I didn't use an iPod flashlight, I did use my phone to light my way up the stairs.
Interestingly, I just read this article in Wired magazine a couple of days ago: Power Up: Twenty years from now, the whole world will be sharing electricity through one grid.